How to Purchase the USB Flash Drive
Two flash drives (as shown below) are available together for a modest fee.


(1) The Timewave Zero USB flash drive contains both the DOS/Windows Fractal Time software (the final version, 7.10) and the user manual for the software. (Note that the software cannot be run on a Mac.) This flash drive also contains a copy of this website (except for parts that require you to be online) with full versions of all the articles (as shown here). When the index.html file on the flash drive is loaded into your browser (on either a Windows PC or a Mac) the home page appears as partly shown in the image below.



USB flash drive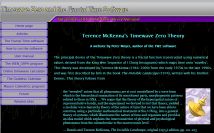 Click to enlarge
(2) The second flash drive is entitled An Inquiring Mind, and contains the Collected Writings of the author of this web site, Peter Meyer. The many articles on this flash drive are grouped into the 16 sections shown here.
A Timewave Zero flash drive would be a good gift for any friend interested in Terence McKenna and his (sometimes bizarre) ideas.
Each of these two USB flash drives has a capacity of 4 Gb, and about half is unused, so about 2 Gb is available for storing your own files.
These two flash drives together cost US$39. Cost of shipping is included.
Please note that due to the current unreliability of international mail, these flash drives can only be sent to an address in the U.S. or Canada.
---
There are several ways to pay.
Payment may be made via any of the international money transfer agencies MoneyGram, Western Union or RIA. These links enable you to find the addresses of their local on-the-ground agents. You could register and pay online, but the process is easier by visiting an agent in person. Then:
Show some ID (a driver's license is sufficient).
Say that you want to send money to PETER JOHANN MEYER.
Request "cash pickup" (in Bulgaria, if they ask).
Pay US$39 plus their fee.
Get from the agent a reference number (8 to 10 digits, with or without dashes).
Then send your sender name, the reference number, and the name and address to which to send the flash drive (via U.S.P.S.), to:

support@fractal-timewave.com

Your purchase will be acknowledged as soon as possible and you'll receive an email message telling you when to expect delivery (usually within a week).

If you have any questions then send a message to that email address.
---
Alternatively, payment can be made via Bitcoin, either directly by sending the BTC equivalent of US$39 to the address
1CiC4Rq6HSJaYVu2UZTYiSb7iVJpcTETBf
or by clicking on this link to open a page which allows you to send the equivalent of US$39 (at the current Bitcoin price) from your cryptocurreny wallet.
Then send a message to the email address above, with the name and address to which to send the two flash drives (via U.S.P.S.).