How to Purchase the CD-ROM
The CD-ROM contains both the DOS/Windows Fractal Time software (the final version, 7.10) and the user manual for the software, plus a copy of this website (except for parts that require you to be online) as at February 2, 2014, with full versions of all the articles (as shown here). When the index.html file on the CD-ROM is loaded into your browser (on either a Windows PC or a Macintosh) the home page appears as partly shown in the image below. This is the final version of this CD-ROM. There won't be a later one.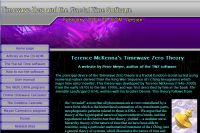 Click to enlarge


A copy can be purchased via PayPal or Digital River. Both accept Visa and Mastercard. Digital River also has other payment methods (including PayPal). The price for a single copy is US$18.75 (about €17.75 or £14.95). This includes first-class (or airmail) postage to any address (which would otherwise add another $2-$5 to the price).

To order one copy via PayPal click on the PayPal button below:

To order two copies via PayPal (one for a friend) at a 20% discount ($29.94) click on the PayPal button below.
With two copies you will receive a free copy of the CD-ROM An Inquiring Mind. So three CDs for the price of two.

To purchase one or more copies via Digital River click on the button below:

If you have any questions about this CD-ROM feel free to contact us.
Special offer to previous purchasers: Anyone who has purchased a copy of the the Fractal Time Website-on-CD published in 2011, 2012 or 2013 can obtain a free copy of the 2014 edition by informing us (via the email address on the Contact page) of their name, the email address that they used for their purchase, and their current postal address.